Project Overview
We are developing the methods and algorithms that enable (1) on-board dynamic decision-making for an autonomous aerial vehicle, (2) creation of a vehicle Predictive Digital Twin, and (3) illustration of the benefits of Digital Thread. The distinguishing aspect of our approach is that it is both data-driven and physics-based. Our hypothesis is that by leveraging both physics-based knowledge (through physics-based simulation data and physics-based reduced models) and dynamic data (through on-board sensors) we can issue better decisions than if we were to use data alone.
On-board Dynamic Decision-making
So far, we have shown the advantage of our on-board dynamic decision-making methods through our simulation-based studies. In the coming year, we will be testing our approaches on our DDDAS flight test vehicle, in flight tests at Fort Devens.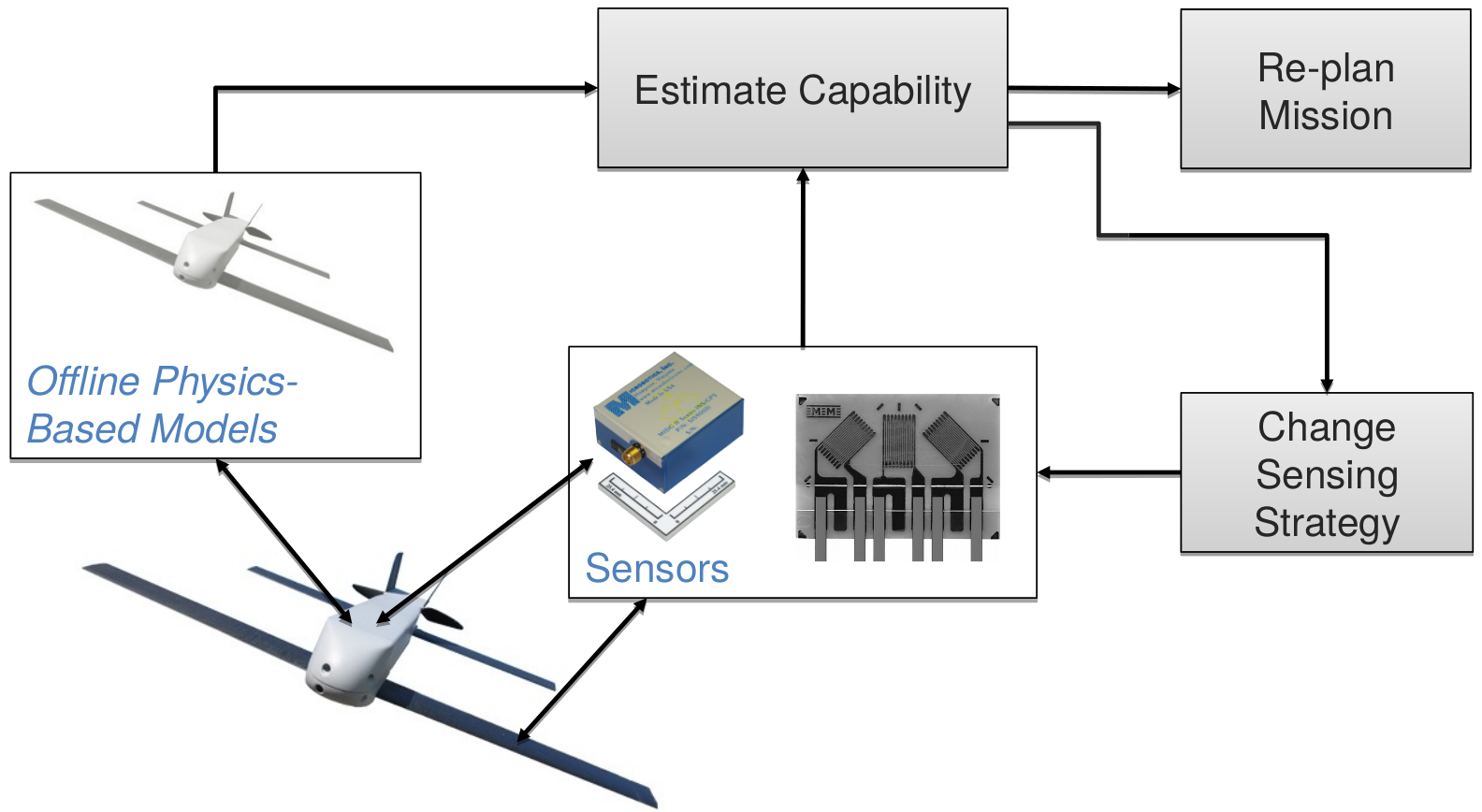 Flight Test Vehicle
We have built a 12-foot wingspan modular flight test vehicle with interchangeable wings. Our flight tests will collect data with a pristine set of wings and with several sets of damaged wings, each with differing damage location and severity. Offline, we build physics-based models of the pristine vehicle using finite element structural models, vortex lattice aerodynamic models, and other models of key aircraft systems. We run simulations of different damage scenarios using these models and create reduced-order models and damage libraries. Then online (in flight), we will acquire sensor data, perform a classification task, and then rapidly access the appropriate pre-computed reduced models and damage libraries. The sensor data will also be used to update the reduced-order models in the face of changing conditions.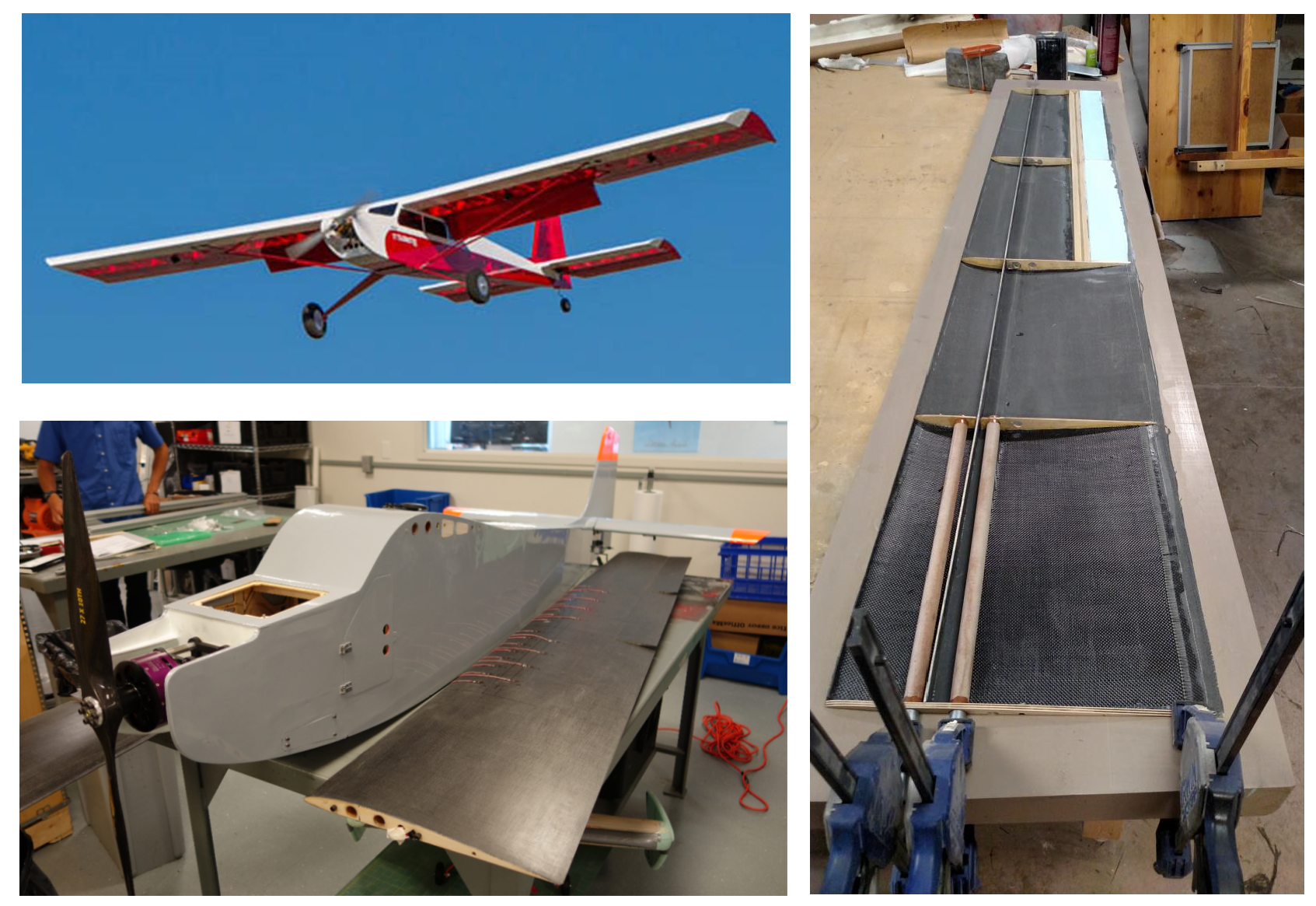 Digital Twin
We are creating a Predictive Digital Twin of our flight-test vehicle, using a combination of physics-based and empirical models that represent the key aspects of the vehicle's performance. A core part of this Digital Twin is a component-based reduced-order model of the aircraft structure.

Towards a Self-Aware UAV
Our research is in support of a self-aware aerospace vehicle — a vehicle that can dynamically adapt the way it performs missions by gathering information about itself and its surroundings and responding intelligently. We consider the specific challenge of an unmanned aerial vehicle that can dynamically and autonomously sense its structural state and re-plan its mission according to its estimated current structural health.
We show that this self-awareness can lead to significant benefits. For example, in our simulations of a structurally damaged UAV navigating a complex environment, the self-aware vehicle had an increased survivability of 99% compared to a baseline vehicle's 84%.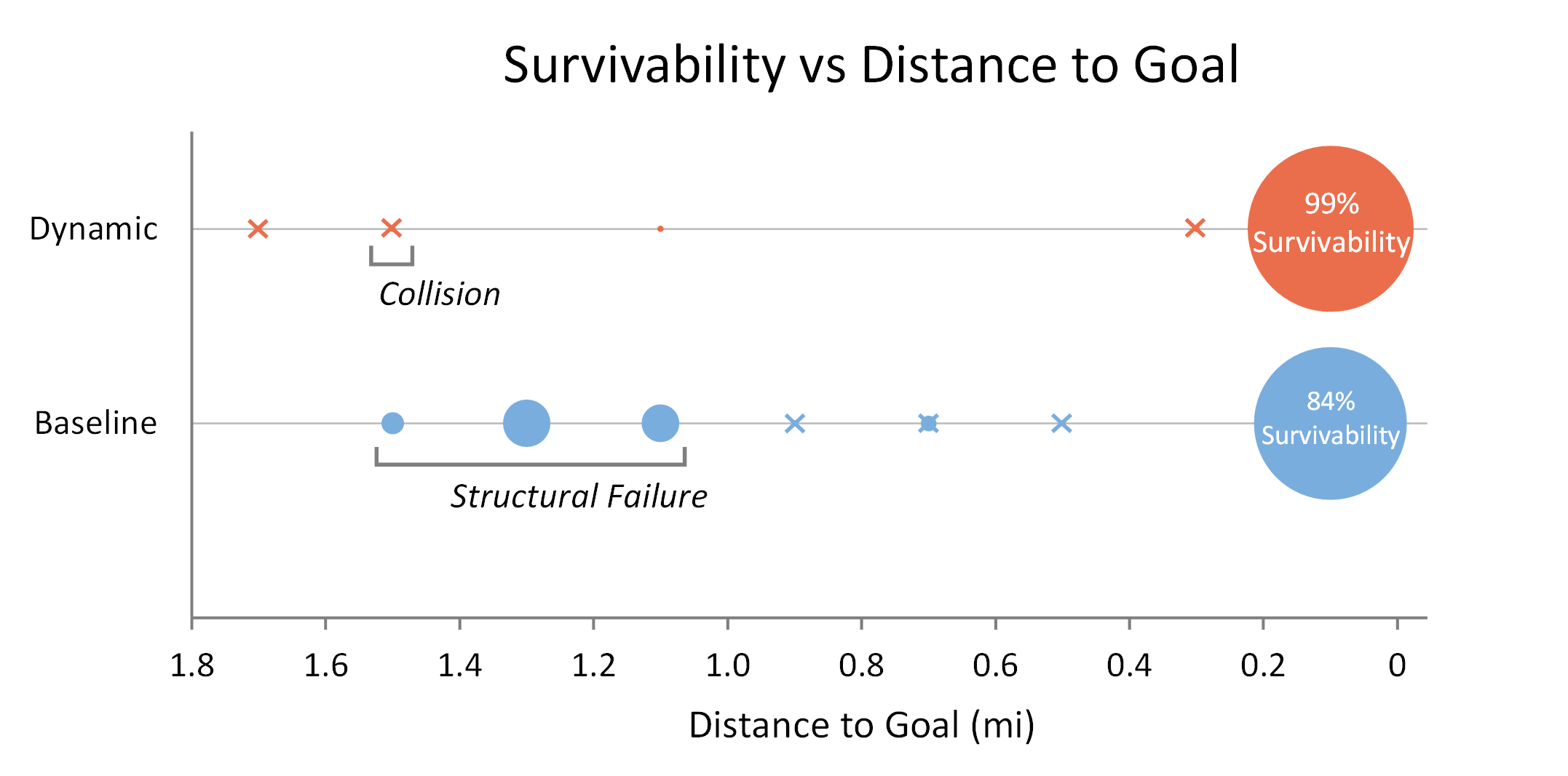 Data-driven reduced-order models are a key enabler.
The challenge is to achieve the tasks of sense-infer-predict-act in real time — executing online models and exploiting dynamic data streams — while also accounting for uncertainty. Our approach combines information from physics-based models together with dynamic sensor data in order to estimate current flight capability. Our physics-based models analyze the system at both the local panel level and the global vehicle level. The models are simulated offline to build a scenario library and to create reduced models. During flight, we gather dynamic sensor data; we rapidly adapt and solve the reduced models; and we use the results to identify dynamic data-driven decisions to control the UAV's behavior.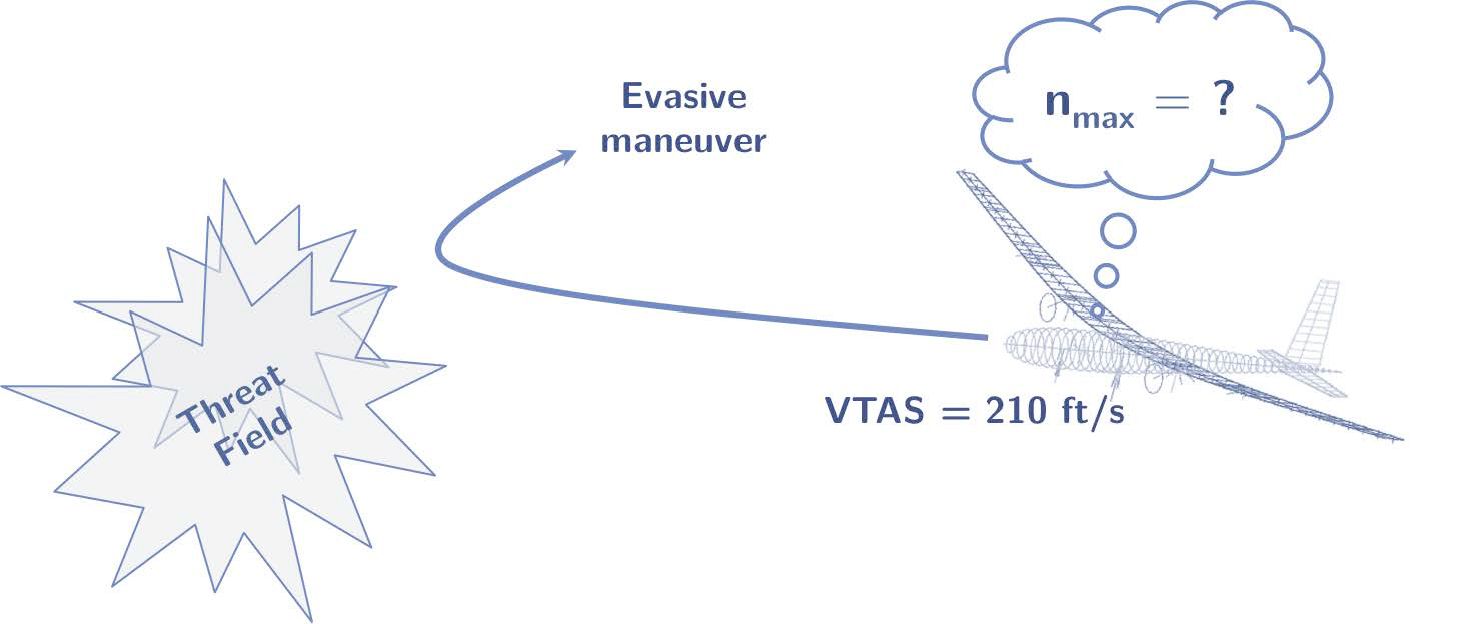 We have developed a data-driven approach for the reduced models and online updating of the flight envelope of a self-aware UAV subjected to structural degradation. We demonstrated the methodology on simulations of a UAV executing a pull-up maneuver, in which the vehicle flight envelope is updated dynamically with onboard sensor information. During vehicle operation, the maximum maneuvering load factor is estimated using structural strain sensor measurements combined with physics-based information from precomputed damage scenarios that consider structural weakness. Compared to a baseline case that uses a static as-designed flight envelope, the self-aware UAV achieves both an increase in probability of executing a successful maneuver and an increase in overall usage of the vehicle capability.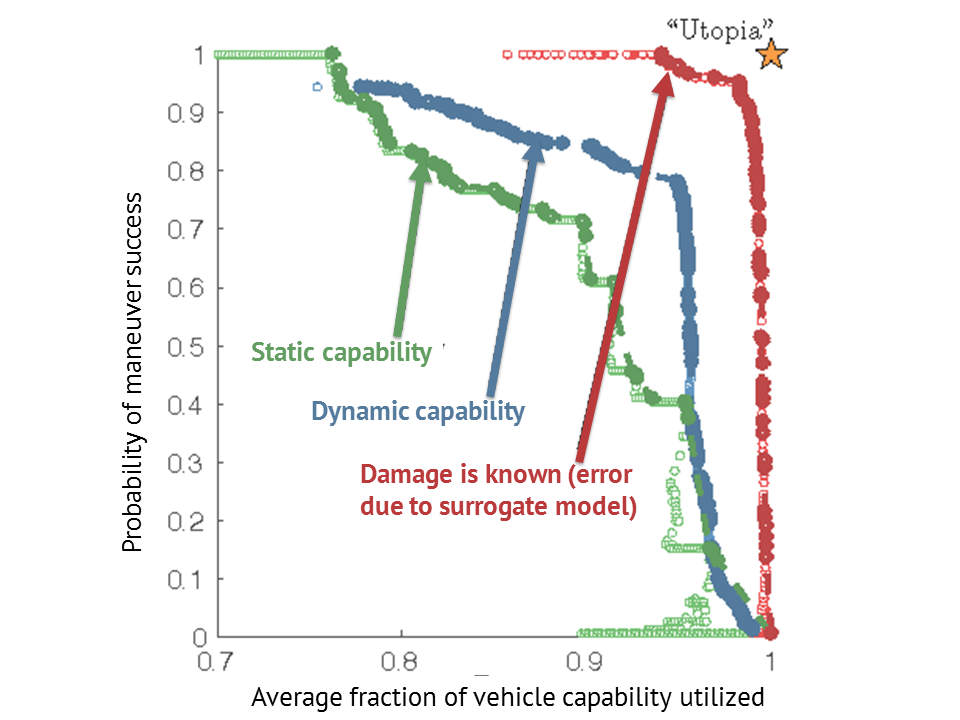 Our dynamic data-driven flight envelope lets the self-aware UAV use more of its capability while increasing the probability of executing a successful pull-up maneuver.
Dynamic assessment of structural health enables adaptive mission replanning.
We have also shown how this dynamic data-driven flight capability estimation can be used for path planning for a self-aware UAV. We have formulated a general mathematical approach that leverages offline vehicle analysis and design data together with onboard sensor measurements to achieve dynamic path planning. The mathematical framework, expressed as a Constrained Partially Observable Markov Decision Process, accounts for vehicle capability constraints and is robust to modeling error and disturbances in both the vehicle process and measurement models. Sensor measurements are treated in a general manner and can include combinations of multiple modalities such as GPS/IMU data as well as structural strain data of the airframe. The result is that the vehicle can dynamically adjust its trajectory according to the observations it receives about its current state of health, thereby retaining a high probability of survival and mission success.