Multifidelity Uncertainty Propagation
Our multifidelity uncertainty propagation approach uses a control variate formulation to create the multifidelity Monte Carlo method (MFMC). The method has an optimal strategy for allocating evaluations among multiple models, so as to minimize the variance of the control variate estimator. Multi-level UQ methods (such as the multi-level Monte Carlo (MLMC) method) leverage hierarchies of models whose approximation qualities and costs are typically described with rates. Multi-level Monte Carlo uses these rates to distribute work among the models. Our multifidelity Monte Carlo method considers general low-fidelity models with properties that cannot necessarily be well described by rates.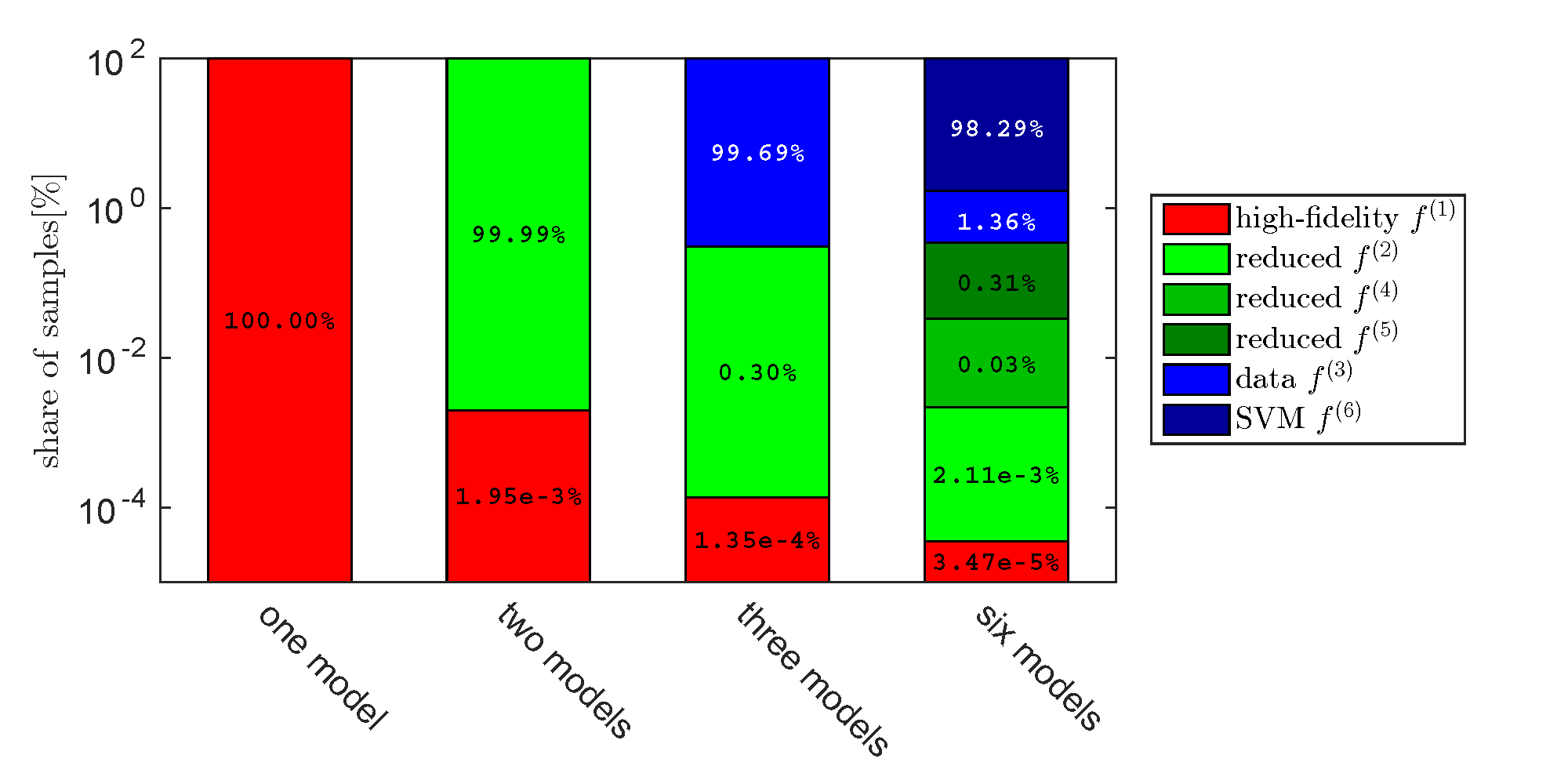 Our multifidelity Monte Carlo method optimally allocates evaluations among multiple models, so as to minimize estimator variance.
Download our open-source multi-fidelity Monte Carlo method repo at Github: Multifidelity Monte Carlo method codes. The repo includes Matlab codes that interface easily with your analysis models to determine the optimal ordering of the models and the optimal number of model evaluations. The repo also includes a simple example that demonstrates the methods and generates plots showing the results.
Multifidelity Global Sensitivity Analysis
Our multifidelity global sensitivity analysis (MFGSA) method expands upon the MFMC control variate approach to accelerate the computation of variance and variance-based sensitivity indices. Sensitivity indices are used to quantify and rank the relative impact of uncertainty in different inputs on the output of a system, and are usually estimated using Monte Carlo sampling. Mean estimation using N Monte Carlo samples requires N function evaluations. However, estimating sensitivity indices for d parameters requires N(d+2) samples, which can lead to a much higher cost than in Monte Carlo uncertainty propagation. Our MFGSA method achieves speed-ups that allow different uncertainties to be definitively ranked with lower computational expenditure than high-fidelity global sensitivity analysis.
These results show that with a computational budget of 2000 high-fidelity model evaluations, Monte Carlo cannot definitively rank the impact of uncertainties in the three inputs for this example because the variance of the sensitivity index estimators is so large that their ranges overlap. Our MFGSA approach achieves estimators with small enough variances so that the ranges do not overlap with the same computational budget, allowing the inputs to be ranked in order of importance. The high-fidelity Monte Carlo method would require 20000 high-fidelity evaluations to rank the inputs, so our MFGSA approach achieves a 10x speed-up.
Like our multifidelity Monte Carlo method, our MFGSA framework can use general low-fidelity models of any form and does not require the approximation quality or costs of the low-fidelity model to be described with rates. The method can distribute work among models so that the MSE of the multifidelity variance estimator is minimized.
You can download our open source MFGSA code from GitHub: Multifidelity global sensitivity analysis codes. Our code interfaces easily with your analysis models and distributes work among them to estimate sensitivity indices and the variance.
Multifidelity Statistical Inference
Our multifidelity statistical inference approach uses a two-stage delayed acceptance Markov chain Monte Carlo (MCMC) formulation. A reduced order model is used in the first step of the two-stage MCMC method to increase the acceptance rate of candidates in the second step. In addition, the high-fidelity model outputs computed in the second step are used to adapt the reduced order model.
Multifidelity Optimization Under Uncertainty
Our multifidelity optimization under uncertainty approach uses the control variate-based multifidelity Monte Carlo method embedded in an optimization loop. We show that the multi-fidelity information can come from a variety of information sources, including surrogate models, reduced order models, or past optimization iterations.